Description
Additional information
Reviews (0)
Q & A
Store Policies
Inquiries
Description
Product Description
Ensuring security is crucial in today's world, where cyber threats are becoming more and more prominent. Microsoft is aware of this and has made it a top priority for its customers. Windows Server 2022 is equipped with advanced security features, such as secured-core server and secure connectivity, to provide a multi-layered security system.
Windows Server 2022 offers improved connectivity for file servers located on-premises to file servers on Azure. With updates to Storage Migration Service, users can transfer their data from selected network access storage (NAS) and Windows File Servers to Windows Servers hosted on Azure. The use of Storage Migration Service enables customers to reduce their on-premises storage footprint while maintaining low latency.
Here are some key features that were typically associated with Windows Server 2022 CAL:
Remote Desktop Services (RDS) CALs: To use Remote Desktop Services on Windows Server 2022, you need RDS CALs in addition to standard User/Device CALs. RDS CALs enable access to Remote Desktop Services features.
Licensing Enforcement: CALs are a way to ensure licensing compliance. Microsoft may audit to ensure CAL usage matches purchases.
License Management: It is crucial to keep track of Client Access Licenses (CALs) to ensure compliance with licensing agreements. Microsoft provides numerous tools and resources to help manage CALs and track usage accurately.
Licensing Benefits: CALs provide access to server features such as file/print services, Active Directory, DHCP, and DNS.
Licensing Costs: The cost of Client Access Licenses (CALs) can vary depending on the licensing program and the number of licenses needed. Microsoft offers several licensing programs, such as Open License, Volume Licensing, and Enterprise Agreements, which may provide discounts for larger organizations.
Minimum System requirements
CPU:1.4 GHz x86-64 processor
RAM:2 GB
Storage space requirements: At least 32 GB free space
Other requirements:
Gigabit (10/100 / 1000baseT) Ethernet adapter
DVD drive (if you want to install the operating system using DVD media )
Super VGA monitor (1024 x 768) or monitor with a higher resolution
Keyboard and Microsoft® mouse (or other compatible pointing devices)
Internet access (may be subject to a charge)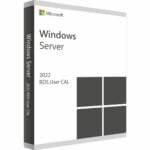 Windows Server 2022 CAL
Your review
* Review is required
Email
* Email is required
Add photos or video to your review
Q & A
There are no questions yet
General Inquiries
There are no inquiries yet.