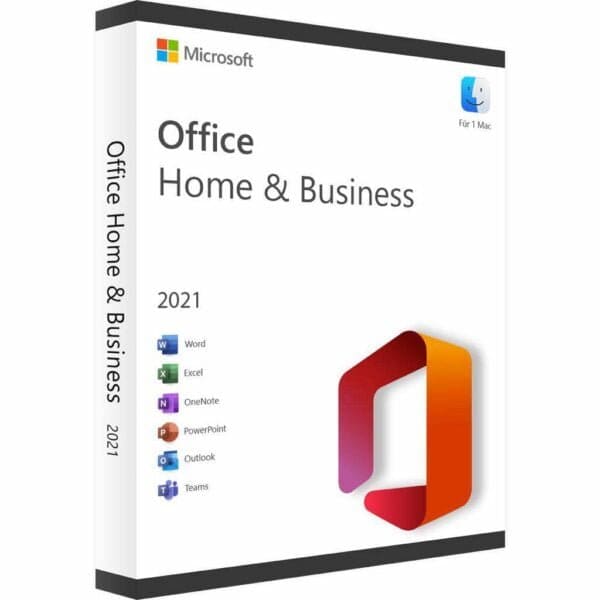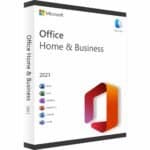 Office 2021 Home & Business For MAC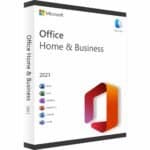 Office 2021 Home & Business For MAC
69.00$
69.00$
Applications included :




100% Genuine version.

Classic 2021 versions of Word, Excel, PowerPoint, OneNote, and Outlook

All languages included.

System Requirements: macOS 10.13 or later (Catalina, Mojave, Big Sur)
Please Note: If you've MacOS 10.13.6 or older then click here to order office 2016

Description
Activation info
Reviews (7)
Q & A (5)
Description
Microsoft Office Home And Business 2021 for MacBook, Macbook Aire & iMac

Product Details
Brand: Microsoft Released
Release date: 2021-11-10

Program

type: Office Suite
Format: Single-Use Digital license
Language: Multilingual 
Includes: Word, Excel, PowerPoint, and OneNote.
Description
The lifetime license for the Microsoft Office  Home and Small Business allows you to purchase five complete desktop software licenses and use your license on up to five devices at once (ideal for small businesses, because it avoids having to purchase a license per workstation).
You'll get access to Microsoft Office Online and Office Mobile in addition to these five free programs. Since Premium access is only available to Microsoft 365 users, they are standard accesses, exactly like in the free version.
As a result, Microsoft Office 2021 Home and Small Business makes it possible for you to download Microsoft Word, the organization's progressively complex word processor that includes a spell and grammar checker, voice dictation, translation, mailing creation (in Excel), the ability to add indexes to your documents, and more. Additionally, you will get Microsoft PowerPoint, a program for making stunning presentations and videos.
‣ Microsoft Word 2021 
Microsoft Office student 2021 for Macbook makes it easier and more professional to create, manage, and edit word documents. Additional learning features and tools are included in Office 2021 to provide you with the best possible experience working effectively with Word. Captions and audio descriptions, increased inking functionality, accessibility improvements, text-to-speech capability, and black theme are just a few of the learning tools that help you present your material effectively.
‣ Microsoft Excel 2021
The new chart types in Microsoft Excel 2021 allow users the ability to express their data in a more engaging way. New formulas and charts, as well as other strong new tools, show your data analysis in an impressive manner. Some of the aspects involved in expressing data in a more descriptive manner are funnel charts, 2D maps, new excel formulas and functions, PowerPivot enhancements, Power-Query enhancements, and so on. Not to add, with the TimeLine visual chart type, you can exhibit your slew of events in a visually appealing and interesting chronological order.
‣ Microsoft PowerPoint 2021
Prepare presentations in a more dynamic and richer way with the upgraded and new MS Office 2021 PowerPoint. Using revolutionary features like Morph and Zoom, you can effortlessly bring cinematic motions to any presentation with this edition. Insert and manage icons and 3D models to make your presentations more dynamic and engaging. Your material will be more impactful and difficult to ignore with an improved roaming pencil case.
Key Features of Microsoft Office Home & Business 2021
For students who cannot be linked to the cloud to receive regular updates, it is the ideal choice for usage at home.
Each Mac device is a well Office programs. Users, for instance, may easily complete their tasks by downloading the product key even on PCs.
Improved security and efficient management also save IT expenditures.
Users may share information they develop in Word and PowerPoint with their colleagues thanks to a variety of built-in collaboration options, which will increase productivity.
Use Microsoft Translator to swiftly translate sentences, words, and other content in the document into an other language.
For the upcoming months, receive free, necessary assistance from Microsoft Office.
Keep in mind that this key can activate ONE mac device, only ONE time. After the activation process is done, you will NOT be able to use the same key again. Formatting the hard drive will effectively erase the key.
Q & A
Hello. What lifetime product could I purchase for an IPad. I recently downloaded Microsoft on my device but I really don't want a subscription. I Think this would only work for a PC
Hello, I recommend that you purchase Office 365 Pro for your iPad, which includes all full versions of the Office suite. Here is the link: https://instant-key.com/product/office-365-pro-plus-account-5-devices/
If I switch my old mac to a new mac in the future, can I reinstall the office on the new laptop?
Hi Cindy, yes this license is transferable, you should just uninstall it from your old PC before
Office 2021 Home and Business for Mac OS Is it good on more one mac
Hi Bob,
This is a lifetime license for just one mac, id you want to use it on more than one mac, then you should take Office 365 but it's an annual subscription
Will this office 2021 work with Mac OS Mack book and iMac Is it limited to one Machine?
Hi Bob,
yes, it's a lifetime license for 1pc
Hi, I just want to be sure, if I purchase the office product key for Mac for the office pro plus ($69) that it will work on my MacBook, it's NOT a Subscription, and will be lifetime, and I'll have full access? Not just some limited stuff.. Marcus
Hi Marcus,
Samy from support, wish all is well with you!
Yes, It's a lifetime license no need for any subscription, but Office Pro-Plus is just for PCs, If you need an Office for Mac, you should purchase one of these versions:
Office 2019 Home and Student at 59$ (Word 2019 + Excel 2019 + PowerPoint 2019)
Office 2019 Home and Business at 69$ (Word 2019 + Excel 2019 + PowerPoint 2019 + Outlook 2019)
Office 2021 Business and Business at 75$ (Word 2021 + Excel 2021+ PowerPoint 2021+ Outlook 2021)
regards,