windows server cal licensing guide
Ejovi Great
What is a Cal ?
Sometimes misunderstood as a software product
Instead, the CAL (Client Access License) is a license that enables a user or device to access the server's services. If your company uses networked workstations, it's probable that you rely on network server software to carry out certain tasks like file and print sharing. A CAL might be necessary in order to legitimately access this server software. To stay informed on the kind of licensing that is best for you, use this guide!
We will discuss server CALs for local network connections in this section.
User CALs are the most commonly used license
and are used for servers that have users with an undetermined number of devices.
If your company's employees require roaming access to the corporate network using numerous devices or if there are more devices than users, this model is advised.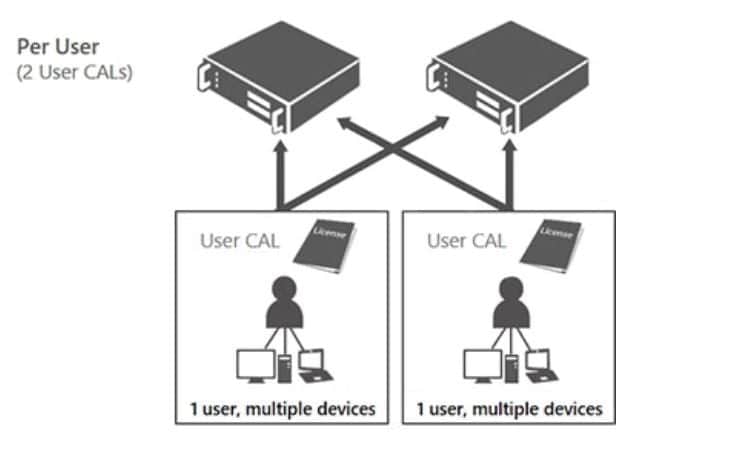 Device CAL
With Device CALs
you purchase a CAL for every device that accesses the server.
For companies with workers that share computers, for instance, various work shifts, this technique is more cost-effective.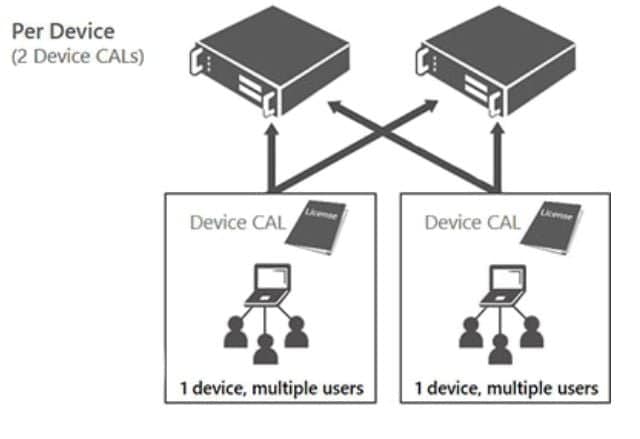 Remote Desktop CALs
For each User or Device connecting to a Remote Desktop Session Host, a Remote Desktop CAL is necessary. An RDS CAL may be required when you connect to an RD Session Host, according on the host server. The RD licensing server then transmits a request for an RDS CAL to the Session Host server. If a CAL is accessible from a license server, it is provided to the client, enabling access to the Host server and the desktop or apps that are being attempted to be utilized. The local client licensing model and RDS CAL model are quite similar.
Click below to see an outline of RDS CALs
REMOTE DESKTOP USER CALS
Per User
CALs are assigned to a user in Active Directory.
CALs are tracked but not enforced by the server.
CALs cannot be tracked within a workgroup.
You cannot revoke any CALs.
Temporary CALs are not available.
CALs can be overallocated (in breach of the Remote Desktop licensing agreement).
Each user is given a license to connect to an RD Session Host from any number of devices while utilizing the Per User model because licensing is not enforced in this case. The available CAL pool or the over-utilized CAL pool is used by the server to grant licenses. To avoid breaking the RD licensing conditions, it is your obligation to make sure that every user has a current license and no Over-Used CALs.
REMOTE DESKTOP DEVICE CALS
PER DEVICE
CALs are physically assigned to each device.
CALs are tracked and enforced by the license server.
CALs can be tracked regardless of Active Directory membership.
You can revoke up to 20% of CALs.
Temporary CALs are valid for 52-89 days.
CALs cannot be overallocated.
For the first time the device is connected to the RD Session Host while utilizing the Per Device model, a temporary license is provided. The client receives a permanent RDS Device CAL the second time the device connects, provided the server is active and there are still CALs available.
CAL Versions
Users' and devices' CALs need to match the Windows Server version they are connected to. Any RDS licensing server is capable of hosting licenses for both the most recent RDS version as well as licenses from all prior RDS versions. For example, a Windows Server 2016 RDS licensing server can host licenses from all earlier RDS versions, but a Windows Server 2012 R2 RDS license server can only host licenses that are compatible with Windows Server 2012 R2.
NOTE: You cannot use older CALs to access newer Windows Server versions, but you can use newer CALs to access older Windows Server versions.