Windows 7 Ultimate SP1 (1PC)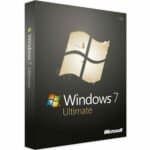 Windows 7 Ultimate SP1 (1PC)
39.00$
Rated 5.00 out of 5 based on

2

customer ratings
2

reviews
39.00$
Buy Windows 7 at the cheapest price in the online market!

After a successful purchase, you will immediately receive :
Windows 7 Ultimate activation License Keycode is a lifetime valid license
A complete program of Windows 7 Ultimate in both 32/64 bit versions
Guides and instructions to activate your Product
7/7 Free Customer care support
Description
Reviews (2)
Q & A
Store Policies
Inquiries
Description
Buy Windows 7 Ultimate product key for the best price at Instant-Key.com Order now and download your license key for Windows 7 directly.
Windows 7 Ultimate is your partner when you want to get things done quickly. With a fast start-up time, Windows 7 also comes with a familiar but improved start-up menu and amazing new ways to perform tasks.
Windows 7 Ultimate license key Details
Brand: Microsoft
Released on: 22-10-2009
Platform: Windows 7
Format: Single-Use Digital Licence
Compatibility: 32-bit and 64-bit
Language: EU Multilingual (it is possible to change language settings after installation)
Description
Windows 7 Ultimate is the definitive version of Microsoft's popular Windows 7 operating system series. This version comes with the first service pack (SP1) for Windows 7 Ultimate already installed, meaning this product will take less time to be fully updated and ready to go.
Microsoft Windows 7 Ultimate New Exciting Features :
► Aero graphical interface. 
New Aero graphical interface gives your laptop or desktop a clean and modern look. It also allows you to fully customize your laptop to your own personal taste. Now you can create personal themes, glass borders, taskbar previews, and desktop slide shows.
► BitLocker and BitLocker to Go.
Windows 7 Ultimate SP1 also includes Microsoft's improved security encryption program, BitLocker. This program ensures that all your files and data are encrypted, protecting you from malicious software. It also includes BitLocker to Go, allowing you to encrypt data on flash drives so you will never be at risk of losing valuable information should your flash drive be lost or stolen.
► More user-friendly. 
The new version used in Windows 7 is designed to be more user-friendly, automatically creating the required system partition when performing a clean installation of the operating system.
► Ideal working space. 
The operating system Windows 7 Ultimate offers support for an ideal working atmosphere on your computer, with these enhanced features:
‣ Device Display: better management of external devices;
‣ Issue finder: an improved problem detection and report;
‣ Library: important documents are visible in Explorer;
‣ New security center: "Action Centre" check of firewall and virus scanner;
‣ Voice control and output: support for users with limited opportunities;
‣ Spring list: fast access to the data and programs;
‣ Remote Desktop Host;
‣ Location Aware Printing.
System Requirements fo Windows 7 Ultimate  license key
‣ Required Processor: 1 GHz processor or faster
‣ Required Memory: 1 GB RAM (32-bit); 2 GB RAM (64-bit)
‣ Required Hard Disk Space: 16 GB (32-bit); 20 GB (64-bit)
‣ Required Display: 800 x 600 screen resolution or higher 
‣ Required Video Card: DirectX® 9 graphics processor with WDDM driver
‣ Required Connectivity: Internet access (fees may apply)
Q & A
There are no questions yet
General Inquiries
There are no inquiries yet.