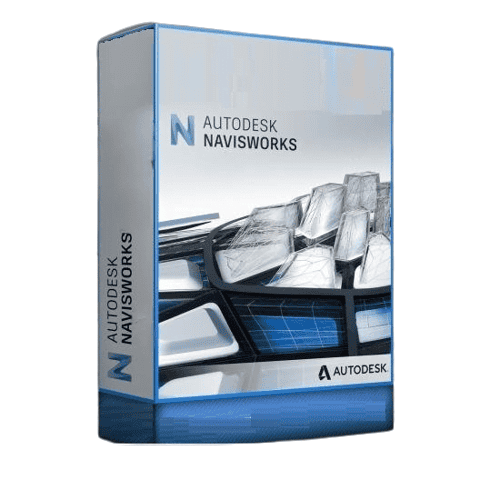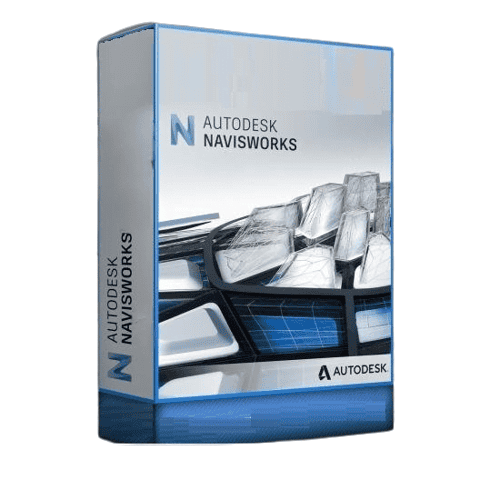 Autodesk Navisworks (Win/Mac)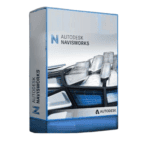 Autodesk Navisworks (Win/Mac)
150.00$ – 300.00$
150.00$ – 300.00$
Description
Additional information
Reviews (0)
Q & A
Store Policies
Inquiries
Description
Product Description
Autodesk Navisworks is a game-changer in the architecture, engineering, and construction industry. This exceptional project review software is designed to enhance collaboration, communication, and clash detection throughout the project life cycle. Navisworks is an all-inclusive tool that professionals widely use to combine 3D models and data from various sources into a single, integrated project model, resulting in a comprehensive project view. Its ability to seamlessly integrate different data sources and visualization capabilities make it an indispensable tool for AEC professionals. Navisworks will effectively streamline your work and elevate your projects to the next level. Give it a try and witness the difference it makes!
Autodesk Navisworks Use Cases
Clash Detection: Navisworks is a software that enables users to import 3D models from a variety of design software, such as AutoCAD, Revit, and Civil 3D, and conduct clash detection. Clash detection helps detect and resolve conflicts between different building components at an early stage of the design and construction process, reducing errors and expensive rework.
Model Coordination: Navisworks enables professionals to consolidate and coordinate various discipline-specific models (e.g., architectural, structural, MEP) into a single federated model. This facilitates better coordination and visualization of the entire project.
Design Review: Navisworks offers a range of tools for 3D model visualization, design review, annotation, and effective communication of design intent among teams.
Quantity Takeoff: Users can extract quantities and measurements from the 3D model, which is valuable for estimating and cost control.
Construction Sequencing and Scheduling: Navisworks allows for the creation of 4D construction simulations by integrating project schedules (e.g., from Primavera or Microsoft Project) with 3D models. This helps in visualizing the construction sequence and identifying potential scheduling conflicts.
Visualization and Presentation: It is a powerful tool for creating visually stunning presentations and project walkthroughs. Its high-quality rendering and animation capabilities are ideal for impressing stakeholders and clients.
Facility Management: Navisworks can be utilized beyond construction to support facility management through the provision of a detailed 3D model of the building, which assists in maintenance planning and operations.
Quality Control: Users can cross-check construction against design models to ensure accuracy.
Safety Analysis: Navisworks is a software that simulates safety scenarios on construction sites, identifying potential hazards and improving safety planning.
BIM Collaboration: It provides a central platform for collaborative BIM (Building Information Modeling) work, enabling teams from different locations and disciplines to work together on a single project.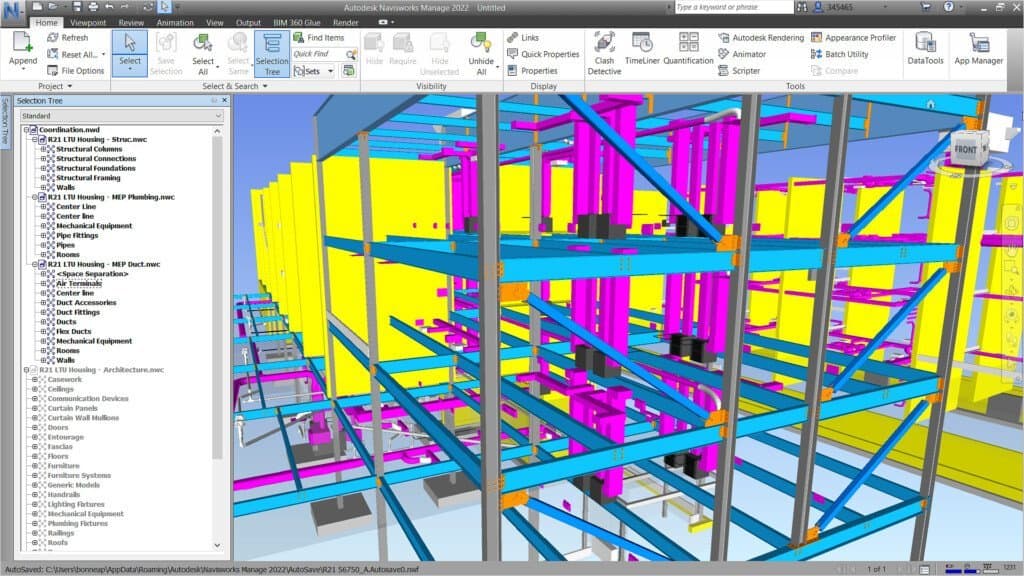 System Requirements for Autodesk Navisworks
The system requirements for Autodesk Navisworks may vary depending on the version of the software you are using and how you intend to use it. Autodesk typically provides minimum and recommended specifications for each version of Navisworks. To ensure the best possible performance and functionality, it's advisable to meet or exceed the recommended requirements. While below are some general system requirements for Autodesk Navisworks, it is highly recommended that you confirm the most recent information relating to the specific version of Navisworks you plan to use on Autodesk's official website or documentation.
Minimum System Requirements:
Operating System:
Upgrade to Microsoft's latest operating system, Windows 10, with its powerful 64-bit architecture for improved performance and efficiency. Navisworks Manage users can also benefit from Windows 8.1 64-bit, while Windows 7 SP1 64-bit offers continued support for legacy systems. Make the switch today and experience the next level of computing.
CPU:
Multi-core 64-bit processor, such as Intel Core i5 or i7, or equivalent AMD processor
RAM (Memory):
8 GB or more (16 GB or higher recommended)
Graphics Card:
For optimal performance, your computer needs a DirectX 11-capable graphics card with Shader Model 3. This can be either a discrete or integrated graphics card with dedicated GPU memory of 1 GB or higher. Additionally, your computer needs to support OpenGL 3.3 or higher.
Display Resolution:
The recommended screen resolution is 1920 x 1080 with True Color. The minimum screen resolution required is 1280 x 800.
Hard Drive:
To install the program, you will need at least 10 gigabytes of free space on your hard disk. For optimal performance, we recommend using a solid-state drive (SSD).
Pointing Device:
Microsoft-compatible mouse or pointing device
Network:
Internet connection for product activation and access to online services
Recommended System Requirements (for better performance):
Operating System:
The operating system installed on my computer is Microsoft Windows 10, and it is the 64-bit version.
CPU:
Multi-core 64-bit processor, such as Intel Core i7 or equivalent AMD processor
RAM (Memory):
To ensure sufficient storage capacity, it is recommended to have a minimum of 16 gigabytes or more.
Graphics Card:
For optimal performance, a DirectX 11 graphics card with Shader Model 5 is required. A discrete GPU with a minimum of 4 GB of GPU memory is recommended.
Display Resolution:
The resolution of the display is 1920 pixels by 1080 pixels and it supports true color.
Hard Drive:
Solid-state drives (SSDs) require at least 50 GB of free space for installation and caching.
Pointing Device:
A 3Dconnexion-compatible mouse or pointing device is available as an optional tool for navigating through 3D models.
Network:
For handling large models and collaborative tasks, it is recommended to use Gigabit Ethernet or a faster network connection.
Additional information
| | |
| --- | --- |
| EDITION | 2021, 2022, 2023, 2024 |
Q & A
There are no questions yet
General Inquiries
There are no inquiries yet.