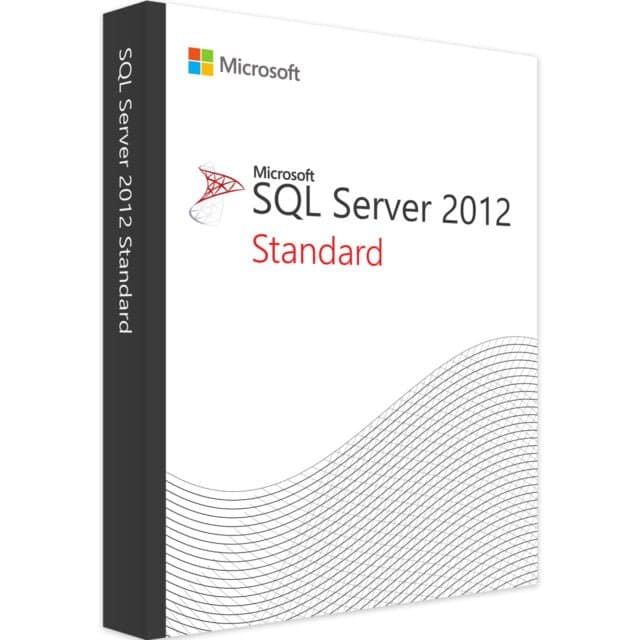 SQL Server 2012 Standard 1user
SQL Server 2012 Standard 1user
70.00$
70.00$
100% Genuine (Retail Version).

Both 32/64 bit version support

All languages version support.

Online update support.

Lifetime effective

Description
Reviews (0)
Q & A
Store Policies
Inquiries
Description
We are pleased to introduce you to SQL Server 2012 Standard, a robust and powerful database management system designed to meet the diverse needs of your organization. Below, you will find a short description along with key features of SQL Server 2012 Standard:
Description:
SQL Server 2012 Standard is a comprehensive data platform that enables efficient and secure storage, management, and analysis of your critical business information. It provides a solid foundation for your data-driven applications and offers enhanced scalability, performance, and security features to optimize your operations.
Key Features:
High Performance:
SQL Server 2012 Standard utilizes advanced query optimization techniques and indexing strategies to deliver exceptional performance for demanding workloads. It can handle large amounts of data and complex queries efficiently, ensuring smooth and responsive operations.
Reliability and Availability:
With built-in mechanisms such as database mirroring, log shipping, and failover clustering, SQL Server 2012 Standard ensures high availability of your data. It provides automatic backup and recovery options, minimizing the risk of data loss and enabling uninterrupted access to your information.
Business Intelligence:
SQL Server 2012 Standard includes powerful tools and features to support your business intelligence needs. It offers integration with SQL Server Reporting Services, Analysis Services, and Integration Services, allowing you to create comprehensive reports, perform advanced data analysis, and integrate data from various sources.
Security:
Protecting your data is of utmost importance, and SQL Server 2012 Standard offers robust security features to safeguard your information. It includes transparent data encryption, row-level security, and fine-grained auditing capabilities, ensuring confidentiality, integrity, and compliance with regulatory requirements.
Scalability and Manageability:
As your business grows, SQL Server 2012 Standard can scale with your needs. It supports high-performance data warehousing, parallel processing, and online indexing, allowing you to efficiently manage large datasets. The management tools provide a user-friendly interface for database administration and monitoring, simplifying routine tasks.
Developer-Friendly:
SQL Server 2012 Standard provides a comprehensive development platform for building data-driven applications. It supports various programming languages and frameworks, including .NET, Java, and PHP. The platform also includes powerful features like stored procedures, triggers, and functions, enabling developers to create efficient and optimized applications.
Please find below the essential system requirements for SQL Server 2012 Standard edition:
Operating System: Windows Server 2012 or later, Windows 8 or later, or a supported version of Linux
Processor: Minimum 1.4 GHz 64-bit processor
RAM: Minimum 2 GB (4 GB recommended for better performance)
Disk Space: Minimum 6 GB of available hard-disk space
Q & A
There are no questions yet
General Inquiries
There are no inquiries yet.