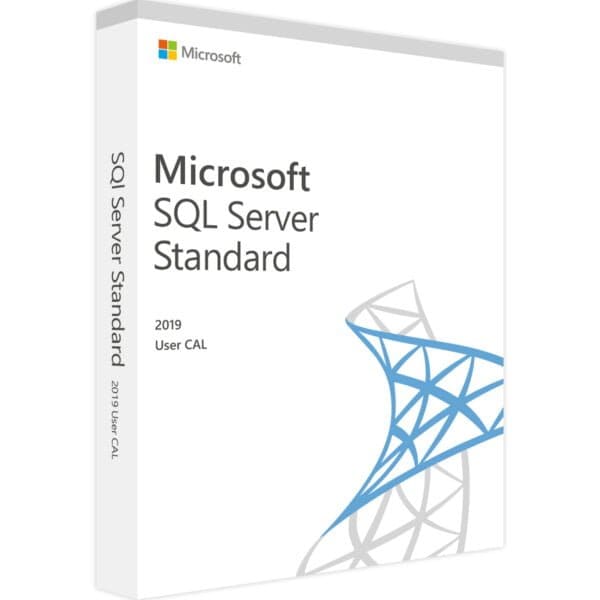 SQL Server 2019 Standard 1 User CAL License
SQL Server 2019 Standard 1 User CAL License
79.00$
79.00$
100% Genuine version.

Both 32/64 bit version support

Lifetime effective

All languages supported

Description
Additional information
Reviews (0)
Q & A
Store Policies
Inquiries
Description
Purchase SQL Server 2019 User CAL License Key
Those looking for an efficient licensing option can rely on SQL Server 2019 User CAL. According to the user, it can be used on all linked devices, so it is not limited to just one device. From a technical point of view, this kind of license offers many improvements, so that all access licenses are up to date. But how exactly does SQL Server 2019 User CAL work and what do you need to know?
Assigning a server
The existing license still refers to a single server. Therefore, a clear allocation must be made in order to effectively use the server license. If several users need to have access to the system, it is of course also possible to purchase several license keys for the SQL Server 2019 user CAL. The operating environment can also be chosen according to your needs, with a physical solution. or virtual. Once the license is purchased, nothing stands in the way of efficient use on the assigned system.
A secure and modern license
An extremely modern server licensing solution is offered around the SQL Server 2019 user CAL. Thanks to the continuous optimizations of Years Year, the 2019 version presents the most important advancements, resulting in an entirely new solution. This can always be linked to various servers in order to optimize the security and convenience of the technical implementation.
The SQL Server 2019 User CAL has also been enriched in terms of content by many innovations. This gives users a uniform platform to process all company data, which doesn't have to differ depending on their data source. Other features include Apache Spark and Hadoop integration and data analysis functionality. Based on machine learning and artificial intelligence, additional solutions are offered, which always allow adaptation according to individual needs.
The main advantages at a glance
Technically secure license option
Full integration of artificial intelligence
Easy access by a user
Easy extension by other users
State-of-the-art analysis options for the system
Targeted maintenance cycle for more safety
One user, an infinite number of devices
Probably the most important feature of SQL Server 2019 User CAL is single-user access. The advantages over Device CAL are not always so obvious, as every business has a different goal. However, if, for example, you are an independent sole trader, an approved device is perfectly adequate. This allows the specified user to access the system from any location, which means the device is no longer a restriction.
If additional users should need to access the system in the future, the SQL Server 2019 User CAL can of course be extended according to existing needs. In conjunction with the new modern service model, the update cycle adapts to the license term, so that an efficient and service-oriented solution is always available. The implementation makes it easy to make security-relevant changes and keep your own SQL server up to date.
Buy SQL Server 2019 User CAL Now
SQL Server 2019 User CAL is a great server licensing option for entrepreneurs as well as individuals. Depending on the requirements, the licenses can be selected in different quantities to be functionally secure. With us, the classic SQL Server 2019 user CAL implementation is available directly in the store, so that each user can benefit from a level playing field and maximum functionality. So anyone can buy SQL Server 2019 User CAL and easily customize server security and processing.
Server License:
The SQL Server license must be assigned to a single server. This server license allows you to run an instance of SQL Server software on the licensed server, in a physical or virtual operating system environment.
User CAL:
A user CAL gives a specific user the right to use any number of devices, such as corporate PC, home PC, mobile phone, etc. from which it can access the server software.
You should select this license type if a user does not only access the corresponding server with a single device and, for example, uses their smartphone in addition to their PC to retrieve emails or uses a tablet as a secondary device. The same is true if employees have the option to use their private devices and connect to the network with them.
Product activation note and installation information :
You receive your license (transfer of rights) for the purchased Microsoft product. A product key or license key is not required for this license. The proof is legally valid in the form of the delivery note.
Q & A
There are no questions yet
General Inquiries
1 Inquiries