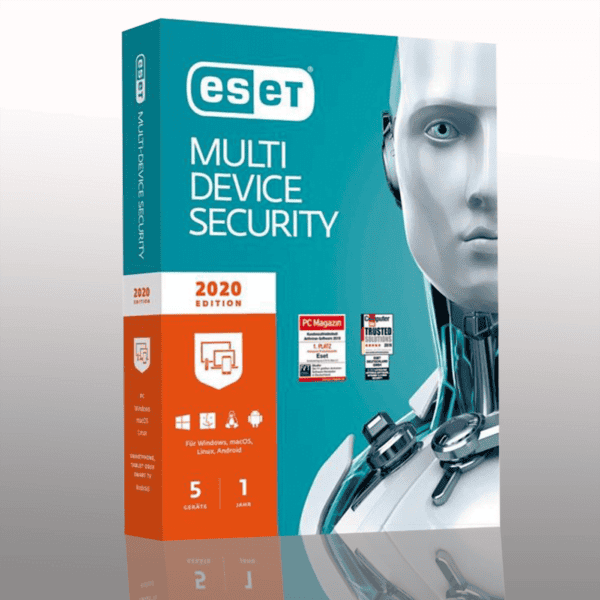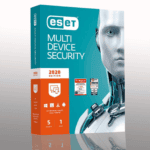 ESET MultiDevice security – 5 Device 1 Year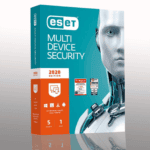 ESET MultiDevice security – 5 Device 1 Year
62.00$
62.00$
Description
Reviews (0)
Q & A
Store Policies
Inquiries
Description
DESCRIPTION:
ESET MultiDevice Security is your ultimate protection solution, with unsurpassed security for over 110 million users! This license provides the ideal combination of speed, threat detection, and operability by ensuring all-around internet protection for your PC, Mac, and Android devices for a whole year. Parental Control is included in the ESET MultiDevice Security package to keep your children safe online.
You may mix and match any of the premium options, making it extremely adaptable. Simply choose the number of devices, the goods you want based on your needs, and enjoy unrivaled security while browsing the web, banking, and shopping with just this license! With the ESET MultiDevice Security bundle, you can keep safe while also saving money.
SOFTWARE FEATURES :
UEFI SCANNING: The UEFI scanner is available in the Internet Security, Multidevice, and ESET Smart Security versions of ESET MultiDevice Security, allowing you to detect UEFI rootkits that are difficult to detect and can withstand extreme security measures such as reinstalling your operating system or replacing your hard disk.
LATEST PROTECTION: ESET provides free upgrades for the duration of your license, with regular updates and new product version releases. Always have the most up-to-date protection.
SECURE ALL YOUR DEVICES: Whether you have a PC, Mac, Linux machine, or Android device, the ESET MultiDevice Security package can protect all of them!
CLOUD SCANNING: Constantly evaluating various malware-related data gathered from users worldwide, the ESET MultiDevice Security package keeps you safe from the latest threats.
24/7/360 RELIABILITY: ESET MultiDevice Security is designed for speed, accuracy, and minimum system needs, ensuring that your system runs smoothly and without lags.
BEST VALUE FOR MONEY: With just this one ESET MultiDevice Security license, you can protect multiple devices and easily transfer protection to any new device at any time. The best bang for your buck!

Save cash
With this license you have all products in one box – and pay less than for single licenses. You can transfer licenses to new devices at any time.
One for all
Whether Windows, Mac, Linux or Android, ESET Multi-Device Security lets you protect all devices with a single license.
According to your needs
Choose how many devices you want to protect and download the ESET products you need – according to your requirements.
Utilities & Tools | Anti-virus and data backup software
The perfect all-round protection for all equipment! (protection for 5 devices for 1 year)
Protect five devices according to your needs: whether it's a computer, laptop (Windows, macOS, Linux), smartphone or tablet (Android)
The ideal all-round protection in one box – with the best mix of safety, speed and ease of use
Simply select the appropriate products from the ESET home user portfolio
Comprehensive protection for 5 devices for 1 year
Only virus scanners with UEFI scan and virus protection software may detect such an infestation. The UEFI scanner is available from Eset in three different versions: Internet Security, Multidevice, and Eset Smart Security.
Antivirus, Antispyware, Exploit Blocker, Anti-Phishing, Antispam, Personal Firewall, Removable Media Control
, Parental Control, Secure Online Banking
New: UEFI scanner

New: License Manager

New: Theft protection

Optimized: Secure home network
A new computer virus called Lojax nests itself in computers in such a way that it cannot be detected by normal virus scanners. Experts consider the virus to be extremely dangerous.
What is a UEFI rootkit?
UEFI rootkits are generally seen as very dangerous tools for preparing cyber attacks. They are difficult to detect and are able to survive even security measures such as reinstalling an operating system or replacing a hard disk.
How can I protect myself from the virus?
Product features
Manufacturer:

 

ESET

Device type:

 Windows, Linux, Mac, Android, IOS


Number of devices:

 from 

1 device

Duration:

 

1 year

 or more

version:

 

Full version

License type:

 

ESD (Download)

Language:

 

German
Scope of delivery:
License key for ESET Multi-Device Security 2020, 5 devices, 1 year, download (ESD)
download link
Activation instructions
support warranty
Invoice incl. value added tax.
System requirements:
Windows
ESET Internet Security and Antivirus runs on any system with Microsoft® Windows® 10, 8.1, 8, 7, Vista and Microsoft Windows Home Server 2011 and requires an Internet connection.
macOS
macOS 10.14 (Mojave), macOS 10.13 (High Sierra), macOS 10.12 (Sierra), 10.11 (El Capitan), 10.10 (Yosemite), 10.9 (Mavericks)
Memory requirements: 300 MB
Disk space (installation): 150 MB
Android
Android 4.0 and higher
RAM: At least 256 MB
Processor: At least 500 MHz, at least ARMv7
touchscreen (min. 320x480px)
Internet connection
SIM card with SMS plan (only for SMS commands)
Google Play account and Google services
Linux
ESET NOD32 Antivirus 4 for Linux Desktop runs on any system running Debian, RedHat, Ubuntu, SUSE, Fedora, Mandriva and many other distributions with RPM or DEB packages. The product requires an Internet connection.
How and when do I get my purchased product?
What payment options are available to me?
What guarantees do I have at Blitzhandel24?
Related links to "ESET Multi-Device Security 2020, 5 devices, 1 year, download"
Q & A
There are no questions yet
General Inquiries
There are no inquiries yet.