Description
Reviews (0)
Q & A
Store Policies
Inquiries
Description
Product Description
In today's digital age, cybersecurity is more important than ever before. This is where McAfee Enterprise comes in. They are a top-of-the-line cybersecurity organization that provides comprehensive security solutions and services to protect both individuals and businesses from a wide range of online threats. Whether it's viruses, malware, or ransomware, McAfee has got you covered.
It's worth noting that McAfee may have introduced new products or undergone some changes since this text was written. But one thing remains the same: their commitment to providing unbeatable protection against cyber threats.
At McAfee, they offer advanced antivirus and internet security products for personal use. These products are designed to provide unparalleled security and privacy, ensuring your peace of mind while you browse the web.
We are thrilled to recommend McAfee as a trusted partner in cybersecurity. Their exceptional results and dedication to their client's safety make them stand out in the industry. With McAfee, you can rest assured that you're in good hands.
Here are some key features and information
Multi-Device Coverage
Upgrade your subscription to our advanced package and enjoy complete protection for all your devices. With just one subscription, you can rest easy knowing that all your devices are secure.
Comprehensive Protection
McAfee provides a range of advanced security products that offer various features aimed at safeguarding individuals from online threats. These can include protection against viruses, malware, ransomware, phishing attacks, and more. Advanced protection is essential to keep your personal data and devices secure from evolving threats.
Antivirus Protection
McAfee's products provide continuous real-time antivirus protection, monitoring your device for threats and blocking or removing malicious software.
Safe Browsing
Stay safe while browsing the internet with web protection! Shield yourself from dangerous websites and phishing attempts with this essential tool.
Minimum System Requirements:
Operating System: Windows 10, Windows 8.1, 10.15 Catalina, iOS, Android
Processor: 32-bit and 64-bit
Memory: 4 GB
Storage: 500 MB available space
Additional Requirements: To use this service, you need to have an active internet connection. It is recommended to have a high-speed internet connection for optimal performance.
Scope of delivery:
Original license key for McAfee McAfee+ Advance Individual
Verified Highs peed Download link to get the software fast & secure.
The invoice with the declared VAT
Instructions for easy installation.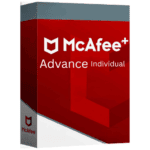 McAfee+ Advance Individual
Your review
* Review is required
Email
* Email is required
Add photos or video to your review
Q & A
There are no questions yet
General Inquiries
There are no inquiries yet.