Description
Reviews (0)
Q & A
Store Policies
Inquiries
Description
Product Description
McAfee Mobile Security is the perfect solution for anyone looking to protect their mobile devices from malicious cyber threats. Developed by McAfee, a leading cybersecurity company, this all-in-one mobile security app is designed to safeguard your smartphone or tablet against malware, viruses, phishing scams, and other online risks, giving you peace of mind and ensuring your personal data stays secure. Don't wait until it's too late, download McAfee Mobile Security today and stay one step ahead of cybercriminals!
Here are some key features and information
Antivirus Protection: Protect your device with confidence using McAfee Mobile Security, scanning for malware, viruses, and harmful files and apps.
Wi-Fi Security: Protect yourself from potential Wi-Fi threats by using our scanning tool to identify secure networks and avoid risky connections. Stay safe and secure while browsing, working, or streaming online.
Anti-Theft and Tracking: With this feature, you can keep track of your device's location, remotely lock it, and even erase your data in case of loss or theft. Additionally, you can use the CaptureCam option to take a picture of the person who has your device. This feature ensures that you have control over your information, even if your device is not in your possession.
App Privacy Check: Discover McAfee Mobile Security's powerful app rating system that identifies any apps accessing personal information without your permission, giving you peace of mind.while restricting access to your personal data and apps.
Safe Web Browsing: McAfee Mobile Security offers real-time web protection, preventing access to harmful websites that may attempt to steal data or infect devices with malware.
Media Backup: Experience peace of mind by storing your cherished memories in the cloud with ease and convenience. Enjoy secure and accessible access.
Optimization Tools: Maximize your device's performance with our app's powerful tools that clean up unnecessary files and optimize storage. Say goodbye to sluggish performance and hello to lightning-fast speeds.
SMS and Call Filtering: You have the ability to block unwanted calls and texts, which can help reduce the number of spam and nuisance communications..
Multi-Device Support: With McAfee Mobile Security, you can protect multiple devices (smartphones and tablets) with a single subscription.
Minimum System Requirements
Storage space: Minimum of 512-MB RAM (2 GB recommended) At least 110 MB of available hard disk space
Internet connection: Wi-Fi LTE 4G 3G
NOTE: We recommend that you use a high-speed internet connection.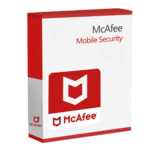 McAfee Mobile Security
Your review
* Review is required
Email
* Email is required
Add photos or video to your review
Q & A
There are no questions yet
General Inquiries
There are no inquiries yet.