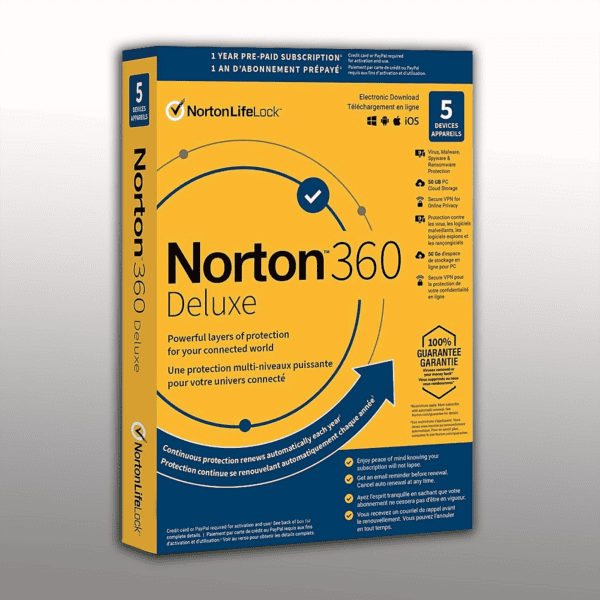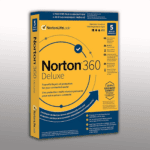 Norton 360 Deluxe, 1 user 5 devices, 1 year (automatic renewal)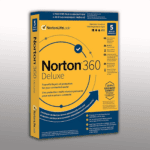 Norton 360 Deluxe, 1 user 5 devices, 1 year (automatic renewal)
33.00$
33.00$
Included in delivery
Original license key Norton 360 Deluxe, 1 user 5 devices, 1 year (automatic renewal)
Verified high-speed download link to get the software quickly & securely
Instructions for easy installation
Description
Reviews (0)
Q & A
Store Policies
Inquiries
Description
Symantec Norton 360 Deluxe, 50 GB cloud backup, 1 user, 5 devices, yearly subscription for 12 months, download
NORTON Antivirus 360 Deluxe :
Get Unbeatable multi-layer protection from the industry's leading antivirus expert for 5 devices at a fraction of the price! With the most advanced real-time 27/7/365 protection, the Norton 360 Deluxe anti-virus license practically puts all your devices above all presently existing and emerging threats. Take advantage now!
The Sufficient 50GB cloud backup offers the most convenient way to store all important data online so that you have comprehensive recovery of information whenever necessary in case of hard drive failures, while the integrated password manager securely stores all your passwords for the safest, stress-free logins.
This universal Norton 360 Deluxe antivirus package also comes with a secure no-log VPN that gives you true anonymity and security online together with cutting-edge Dark Web Monitoring technology to keep data such as credit card information out of the dark web. Explore securely, stay safe!
Antivirus Features :
ULTIMATE DEVICE SECURITY: Get robust real-time threat protection against present-day and future threats with the Norton 360 Deluxe, including ransomware, spyware, viruses, phishing, and more. Never be a victim again!
100% SECURE VPN: The Norton 360 Deluxe antivirus package includes a no-log VPN with bank-grade encryption to help keep your information like passwords and bank details secure and private while allowing you to browse anonymously.
SAFE PASSWORD MANAGER: With Norton 360 Deluxe, you can conveniently create, save, and manage your login passwords, card information, and many other credentials online.
50GB CLOUD-BACKUP FOR PC: Getting the Norton 360 Deluxe license automatically gives you access to a generous, secure PC cloud backup space to save all important files as a proactive measure against hard drive failures, stolen devices, and ransomware.
SAFECAM FOR PC: This smart technology prevents unauthorized use of your webcam by warning you and helping you to block any invasion.
ULTRA-SMART FIREWALL: Norton 360 Deluxe effectively Monitors all network activity while restricting cybercriminal efforts and other unauthorized traffic, allowing only traffic you authorize.
PARENTAL CONTROLS: Keep an eye on your kids' activities on the internet while helping them to surf the web safely on their PCs or smartphones.
100% GUARANTEED PROTECTION: From the time you subscribe to the product, a Norton expert will be available to help you keep your equipment virus-free. If your device gets a virus our experts can't remove, you get your money back!
IMPORTANT: This product is for EU (Europe) region.

You must activate it using a Europe IP Address. You could use a VPN for this if you're not from Europe.
Q & A
There are no questions yet
General Inquiries
There are no inquiries yet.