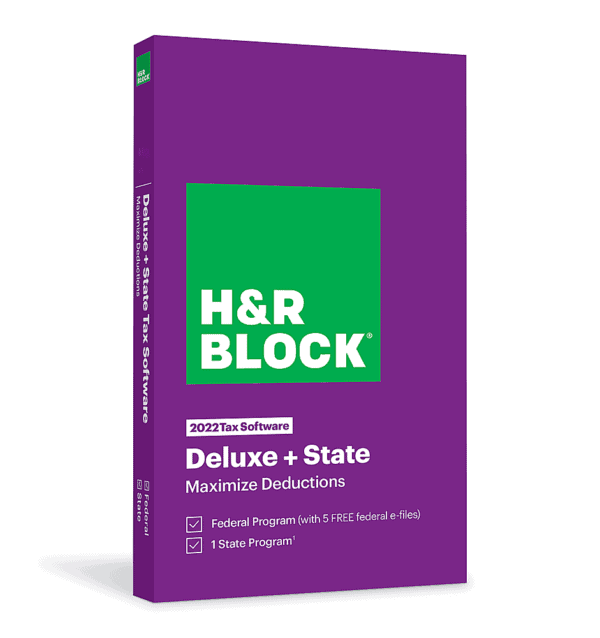 H&R Block 2022 Deluxe + State Tax Software
H&R Block 2022 Deluxe + State Tax Software
34.00$
34.00$
Note: After purchase, you can access the item in Your Orders.
After payment, you will receive an activation code and a download link.
The number of PCs that are eligible for installation is subject to change.

Note: Currently, this item is available only to customers located in Canada, the United States, and Australia.
Description
Reviews (1)
Q & A
Store Policies
Inquiries
Description
H&R Block Deluxe + State Tax Software 2022
Maximize Deductions
Deluxe + State tax software is designed to help you maximize your credits and deductions, including guidance for homeowners and investors. including a help center with over 13,000 searchable articles.
H&R Block gives taxpayers comprehensive, easy-to-use tax software for documenting relevant income, deductions, and credits on their 1040s. It's an excellent choice for simple and complex returns.
Five free federal e-files for your personal return, and unlimited federal preparation and printing

One state program download included – a 39.95 dollars value (state e-file available for 19.95 dollars)

Step-by-step Q&A and guidance on credits and deductions

Quickly import your W-2, 1099, 1098, and last year's personal tax return, even from other software

Itemize deductions with Schedule A

Guidance on maximizing mortgage interest and real estate tax deductions

Reporting assistance on income from investments, stock options, home sales, and retirement

What's New in HR block Deluxe?
PROS
Excellent user experience with clear navigation
Always-on, context-sensitive help
Thorough, understandable explanations of tax topics
Excellent mobile apps
Optional fee-based expert help
Improved user interface
CONS
No comprehensive navigation tool
Some excessive clicking required
Minor performance problem
The H&R Block User Experience
Navigation is simple and straightforward. You advance from screen to screen by clicking the Back and Next buttons. You can also, for example, click a tab in the horizontal toolbar at the top (Overview, Federal, and so on) to see its subsections (like Income, Deductions, and Credits). Directly below is a list of the forms you've completed, and selecting one takes you back to it. Links in the left vertical pane show your real-time, ever-updating tax obligation or refund and take you to housekeeping pages, such as Previous Taxes and Account Settings.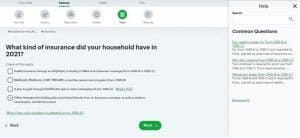 ‣ Handy Help
The Q&A format online tax preparation solutions use works well if there's always an option to have complex or unfamiliar concepts explained in more detail—without requiring you to open a giant help database and search for a term (though there's a place for that, too). It's critical for tax software to make context-sensitive help easily accessible.
‣ Review and File Your Tax Return
After you complete all the federal tax steps, H&R Block Deluxe takes care of some additional tasks—such as creating estimated tax payment vouchers—and then provides a summary of your return. It also suggests forms you may have forgotten and lets you search for and jump to additional documents by form name or tax topic, which is very helpful if you come to the end of your return and still have paper forms or unresolved issues.
‣ Sound Security
H&R Block websites offer multiple layers of protection, including industry-standard web-browsing encryption technology and multi-factor authentication. Your personal data is protected and monitored 24/7. The company employs external security experts to perform audits and assess risks, and its data centers, network, and servers are housed in secure facilities.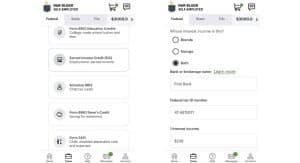 ‣ The H&R Block Mobile Experience
H&R Block has an Android app and an iOS app. The H&R Block Tax Prep and File app lets you file or access a return you've started or completed on another device. As we found last year, the mobile app does a beautiful job of replicating the desktop experience. It offers simple navigation, an able help system, and comprehensive coverage of tax topics.
H&R BLOCK 2022 (TAX YEAR 2022) 
Imports Competitors' Returns                Yes
All Major IRS Forms and Schedules        No
Comprehensive Navigational Outline     No
Minimum System Requirements
Operating System: Windows – 8.1/10/11

Browser: Windows – Internet Explorer 11 or higher

Hard Disk Space: 170MB

Monitor: 1024×768 SVGA color monitor
Q & A
There are no questions yet
General Inquiries
1 Inquiries