Description
Additional information
Reviews (0)
Q & A
Store Policies
Inquiries
Description
Product Description
Corel Painter is a professional digital art software that allows artists to unleash their creativity and create stunning, lifelike artwork using a wide range of realistic digital brushes, textures, and tools. Whether you're an experienced artist or just starting out, Corel Painter provides a rich set of features and a natural painting experience that emulates traditional media.
Key Features:
Natural-Media® Brushes: Corel Painter offers an extensive collection of over 900 realistic brushes, including acrylics, oils, watercolors, pastels, charcoals, pencils, and more. These brushes respond and behave like their traditional counterparts, giving artists the freedom to experiment and achieve unique effects.
Brush Customization: Artists can customize their brushes to match their artistic vision. Corel Painter allows you to adjust brush sizes, shapes, opacity, flow, and blending modes. You can also create your own brushes and save them for future use.
Realistic Textures: The software includes a vast library of textures, papers, and patterns that can be applied to your artwork. These textures add depth, richness, and detail to your paintings, allowing you to create realistic and textured surfaces.
Color Management: Corel Painter provides advanced color management tools to ensure accurate and consistent color representation. You can work with RGB, CMYK, and other color spaces, and take advantage of color harmonies and mixing palettes to create captivating color schemes.
Symmetry Tools: The software offers symmetry painting tools, enabling you to create perfectly balanced designs and patterns. You can experiment with radial, kaleidoscopic, and mirrored symmetries to achieve intricate and mesmerizing artwork.
Layers and Blend Modes: Corel Painter supports layers, allowing you to work on different elements of your artwork independently. You can adjust layer opacity, blend modes, and layer masks to create complex and layered compositions.
Artist-friendly Interface: The user interface of Corel Painter is designed to be intuitive and artist-friendly. The software provides easy access to brushes, tools, and palettes, allowing artists to focus on their creativity without being overwhelmed by complex menus.
Compatibility and Integration: Corel Painter supports popular file formats, including PSD (Photoshop), AI (Adobe Illustrator), and more. It also integrates well with other software and hardware, such as pen tablets and stylus devices, making it a versatile tool for digital artists.
Overall, Corel Painter is a powerful and versatile digital art software that combines the best features of traditional media with the advantages of digital tools. It offers a wide range of creative possibilities and empowers artists to bring their imagination to life on the digital canvas.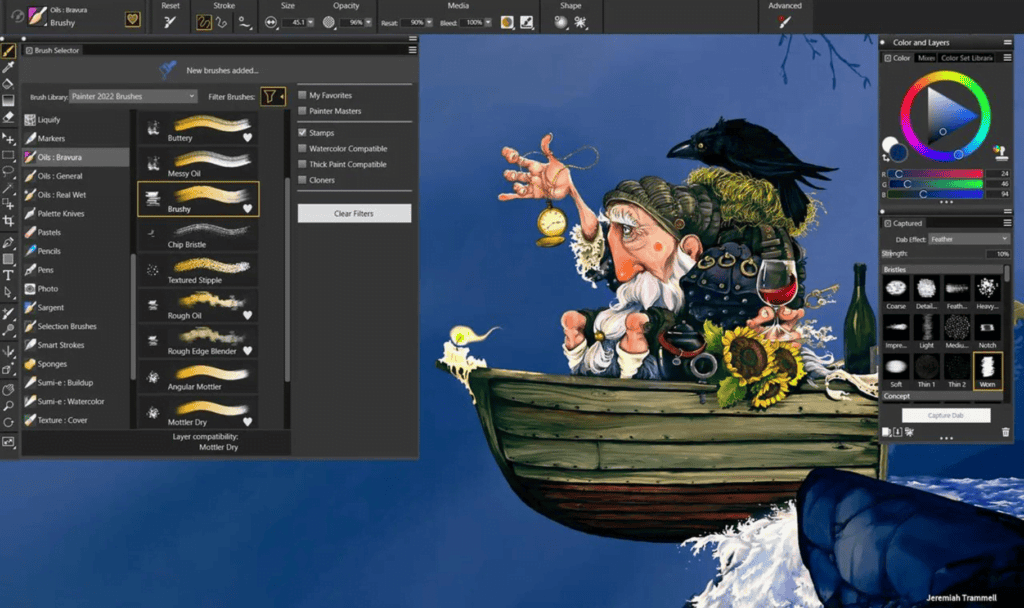 Corel Painter Specifications and Compatibility
Corel Painter has specific system requirements and compatibility information to ensure optimal performance and functionality. Here are the specifications and compatibility details for Corel Painter:
System Requirements:
Operating System:
Windows 10 (64-bit) or later
macOS 10.15 (Catalina) or later
Processor:
Intel Core 2 Duo or AMD Athlon 64 X2 processor (or higher)
RAM:
4 GB RAM (8 GB or more recommended)
Hard Disk Space:
2.4 GB available space for the application files
Display:
1280 x 800 screen resolution (1920 x 1080 recommended)
True Color or 32-bit display
Pen Tablet:
A pressure-sensitive pen tablet or device is recommended for best results
Internet Connection:
An internet connection is required for product activation, online services, and to access additional content and features.
Compatibility:
File Formats:
Corel Painter supports a wide range of file formats, including but not limited to: PSD (Adobe Photoshop), AI (Adobe Illustrator), TIFF, PNG, JPEG, GIF, BMP, and more. This allows for seamless integration with other software and ensures compatibility when importing or exporting files.
Hardware Compatibility:
Corel Painter is compatible with various pen tablets and stylus devices from different manufacturers, including Wacom, Huion, XP-Pen, and others. It is recommended to check the specific compatibility of your device with Corel Painter before purchasing or using it.
Additional Information:
Corel Painter also offers additional features and integration with other Corel software, such as CorelDRAW and Corel PHOTO-PAINT, for enhanced workflows and creative possibilities.
It's important to note that system requirements and compatibility information may vary depending on the specific version of Corel Painter you are using. It is always recommended to refer to the official Corel website or documentation for the most up-to-date and accurate information regarding system requirements and compatibility.
Q & A
There are no questions yet
General Inquiries
There are no inquiries yet.