Description
Additional information
Reviews (0)
Q & A
Store Policies
Inquiries
Description
Corel Painter Essentials is a digital art software developed by Corel Corporation. It is designed to provide a streamlined and user-friendly experience for artists, allowing them to create digital paintings and artwork using a variety of realistic brushes and tools.
Product Description
Corel Painter Essentials is a powerful digital art software that brings your creative ideas to life. Whether you're a beginner or an experienced artist, this software provides a wide range of tools and features to help you express your artistic vision.
With Corel Painter Essentials, you can unleash your creativity and explore various artistic styles. The software offers a vast selection of realistic brushes that emulate traditional art materials, allowing you to create stunning digital paintings that closely resemble traditional artworks.
One of the standout features of Corel Painter Essentials is its Natural-Media simulation. The software accurately replicates the look and feel of various art mediums, including oils, watercolors, pencils, pastels, and more. You can experiment with different brush styles, textures, and effects to achieve the exact result you envision.
If you have a favorite photograph, Corel Painter Essentials lets you transform it into a work of art. With the Photo Painting feature, you can import images and apply artistic filters, brushstrokes, and color adjustments to convert them into stunning painted masterpieces.
The software supports layers, enabling you to work on different elements of your artwork independently. You can easily add, rearrange, and blend layers to create complex and visually captivating compositions. Additionally, the blend modes give you control over how layers interact with each other, allowing for endless possibilities and creative experimentation.
Corel Painter Essentials offers an intuitive and user-friendly interface, making it accessible to artists of all skill levels. The streamlined layout and simplified toolset provide a smooth learning curve, ensuring that beginners can dive into digital art without feeling overwhelmed. As you become more comfortable, you can explore advanced features and techniques to take your artwork to new heights.
Whether you're a hobbyist, a student, or a professional artist, Corel Painter Essentials is an excellent choice for digital painting and artistic exploration. Its diverse range of brushes, realistic textures, and powerful editing tools make it a versatile software for creating stunning artworks that reflect your unique style and vision.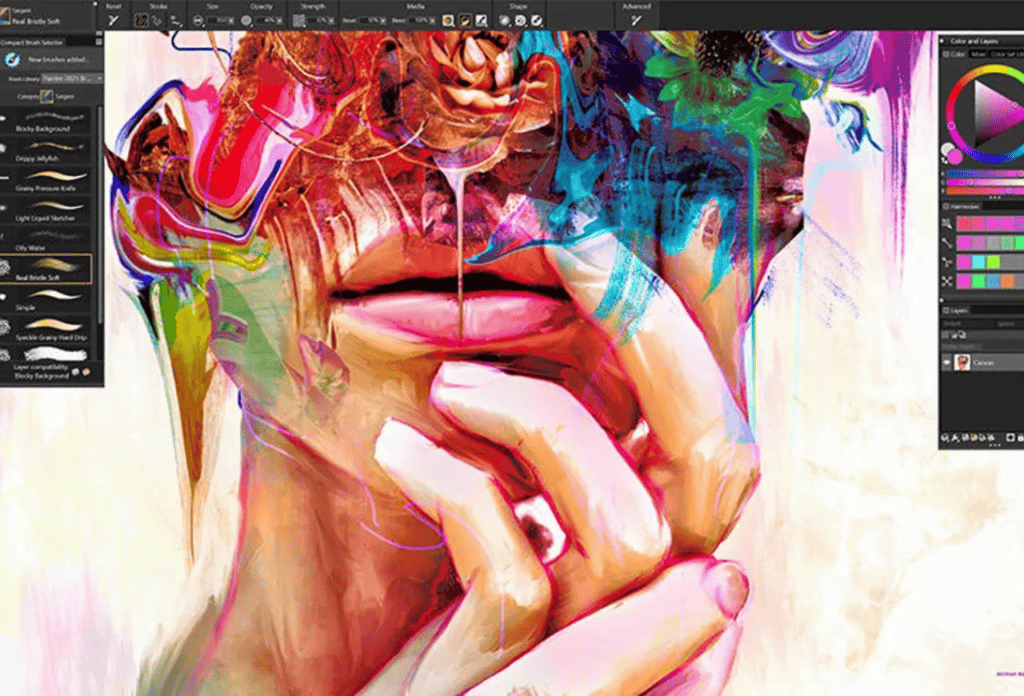 Corel Painter Essentials system requirements
To run Corel Painter Essentials on your computer, you need to ensure that your system meets the minimum requirements. Here are the system requirements for Corel Painter Essentials:
Operating System:
Windows 10 (64-bit) or later
macOS 10.15 (Catalina) or later
Processor:
Intel Core 2 Duo or AMD Athlon 64 X2 processor (minimum)
Intel Core i5 or i7, or AMD Ryzen (recommended)
Memory (RAM):
4 GB or higher (minimum)
8 GB or higher (recommended)
Hard Disk Space:
2.5 GB of available hard disk space for the application files (installation)
SSD recommended for improved performance
Display:
1280 x 800 screen resolution (1920 x 1080 or higher recommended)
True Color display
Graphics Card:
OpenGL 4.2-compatible video card with 2 GB VRAM (recommended)
Tablet and Pen:
Wacom tablet and stylus (recommended for the best drawing experience)
Internet Connection:
Required for product activation, software updates, online features, and access to online content
Other Requirements:
DVD drive (required for boxed version installation)
Microsoft Internet Explorer 11 or higher, or the latest version of Microsoft Edge, Safari, Firefox, or Chrome (for online services and product updates)
It's important to note that these are the minimum system requirements. For optimal performance and to fully utilize all the features and tools of Corel Painter Essentials, it is recommended to have a more powerful system with higher specifications.
Q & A
There are no questions yet
General Inquiries
There are no inquiries yet.