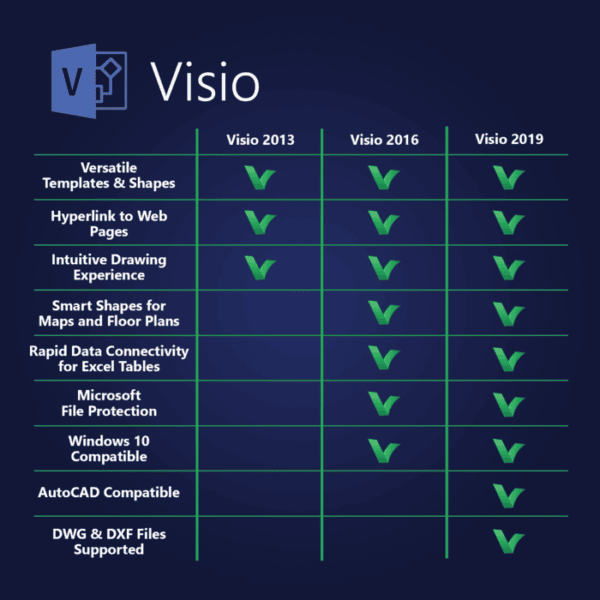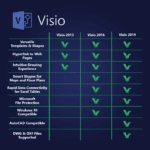 Microsoft Visio Pro 2016 2 PC (Lifetime)
Microsoft Visio Pro 2016 2 PC (Lifetime)
35.00$
35.00$
Full version with lifetime-license

One-time purchase / No subscription

Product Key within Minutes 

Direct Download via Microsoft 
After a successful purchase, you will immediately receive :
Visio Professional 2016 activation License Keycode is a lifetime valid license
Complete program of Visio Professional 2016 in both 32/64 bit versions
Guides and instructions to activate your Product
Description
Reviews (0)
Q & A
Store Policies
Inquiries
Description
Buy Microsoft Visio Professional 2016 license Key for 2 users
Product Details
Brand: Microsoft
Released on: 22-09-2015
Program type: Flowchart Software
Format: Single Use Digital license
Compatibility: 32-bit and 64-bit
Language: EU Multilingual (it is possible to change language settings after installation; additional language packs are also available to be downloaded and installed separately)
Description
Visio Professional 2016 makes it easier than ever to create and share high-quality, professional diagrams to communicate challenging topics. It will be beneficial to both individuals and groups. Visio Professional adds new shapes, templates, and styles, as well as improved team collaboration and data-linked diagrams, to the Standard edition's capability.
Extensive Features of Microsoft Visio Professional 2016
Effortless diagramming
Versatile templates and countless choices from thousands of shapes: transform your ideas and data into a compelling story.
Support for industry standards: You can now use the extensive library of Visio tapes for industry-standard content, including UML 2.5, BPMN 2.0, and SDL.
Built-in validation: make sure all your BPMN and workflow diagrams contain all elements by running the Visio validation engine.
Familiar experience: now build your diagrams even more efficiently by using one of the many possibilities such as; drag and drop or align and position. You can also make your diagram look even more professional by using the pre-created themes and effects.
Seamless collaboration and easy sharing of your diagrams
Collaboration with a team in real-time: it's now even easier to work together on turning your diagram into a picture. To keep the most up-to-date version, avoid conflicts, and collaborate. You can easily identify who worked on which component, set up alerts to track changes and choose when to deliver notifications in the main file.
In Visio, add the following comments: By adding comments to your file and having the ability to respond to them, you may share other points of view and add them to your file. To avoid confusion, these annotations can be placed in a single chart area in Microsoft Visio Professional 2019.
With Skype for Business in Visio, you can now see who in your team is accessible in real time with live attendance indicators. For example, you can use the app to instantly establish a chat, voice, or video conference.
Link diagrams to real-time data for faster decision making
Easily link your data: Bring new insights to light and simplify a mountain of complex information by linking your Visio shapes and diagrams to data from internal sources, for example, as well as external sources.*
Access your data, and diagrams anywhere: Access your linked diagrams from almost anywhere via your favorite browser.
Reverse engineering of databases: With DBRE, Database Reverse Engineering, you can now easily turn an existing database into a custom database model.
Organization charts linked to your data: Save time and reduce the error rate by automatically generating organizational charts of your sources such as Excel or Exchange.
Compatibility
Visio Professional 2016 is available in 32-bit and 64-bit versions, and it is compatible with Windows 7,8, 10 and 11
Microsoft Visio Pro 2016 2 PC (Lifetime)
Your review
* Review is required
Email
* Email is required
Add photos or video to your review
Q & A
There are no questions yet
General Inquiries
There are no inquiries yet.