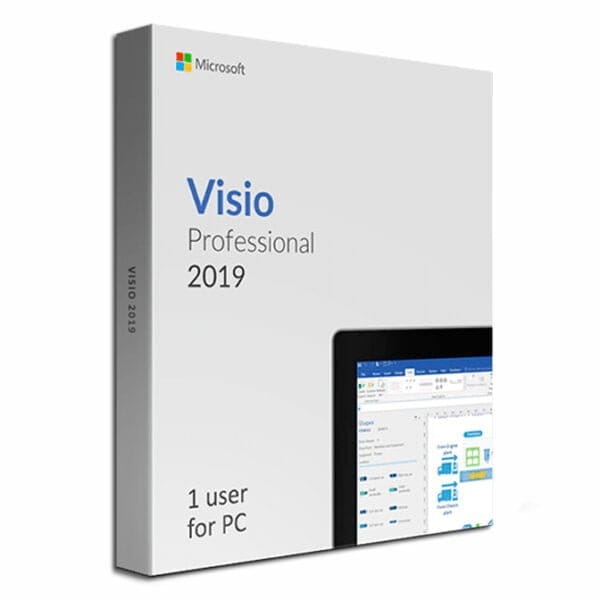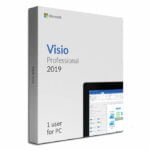 Microsoft Visio 2019 Professional (2 user)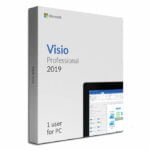 Microsoft Visio 2019 Professional (2 user)
45.00$
45.00$
Full version with lifetime-license

One-time purchase / No subscription

Product Key within Minutes 

Direct Download via Microsoft 
Compatible with Windows 10 only 
After a successful purchase, you will immediately receive :
Visio Professional 2019 activation License Key 
The complete program of Visio Professional 2019 in both 32/64 bit versions
Guides and instructions to activate your Product
Description
Reviews (3)
Q & A
Store Policies
Inquiries
Description
Buy Microsoft Visio Professional 2019 license Key for 2 users
You can now simply create professional charts, collaborate with others, and share and link your charts to real-time data with Microsoft Visio Professional 2019. As a result, you'll be able to make vital judgments fast. You may also quickly modify shapes from existing diagrams without affecting their layout or form data. As a result, the hard work you've already put in will never be lost.
What makes Microsoft Visio Standard 2019 and Microsoft Visio Professional 2019 different?
The module that allows you to integrate diagrams to real-time data is the difference between Microsoft Visio Standard and Microsoft Visio Professional 2019. By tying your Visio shapes and diagrams to data from internal and external sources, for example, you may bring fresh insights to light and simplify a mountain of complex information using Microsoft Visio Professional 2019.
* What is the difference between Microsoft Visio 2016 and Microsoft Visio 2019? Don't worry, you'll still have access to Microsoft Visio 2016's best features, but they've been enlarged and improved, and Microsoft Visio 2019 also includes some new ones!
Microsoft Visio Professional 2019 has a lot of features:
Effortless diagramming
Transform your ideas and data into a fascinating story with versatile templates and thousands of shape options.
Industry standards are now supported, and you may use the wide library of Visio cassettes to create industry-standard content, such as UML 2.5, BPMN 2.0, and SDL.
Built-in validation: use the Visio validation engine to ensure that all of your BPMN and process diagrams contain all of the necessary parts.
Using one of the various options, such as drag and drop or align and position, you can now design your diagrams even more efficiently. You may also use the pre-made themes and effects to make your diagram look even more professional.
Seamless collaboration and easy sharing of your diagrams
Collaboration with a team in real-time: it's now even easier to work together to turn your diagram into one. To preserve the proper version, avoid version conflicts, and collaborate.
Easily check who worked on which component, enable alerts to keep track of the progress of modifications, and determine when to make those notifications in the main file.
In Visio, make the following comments: By adding comments and having the ability to respond to them, you may share other points of view and add them to your file. To avoid confusion, these remarks can also be attached to a single chart section in the new Microsoft Visio Professional 2019.
With Skype for Business in Visio, you can now see who in your team is accessible in real-time with live attendance indicators. You can immediately initiate a chat, voice, or video conference in the app, for example.
Link diagrams to real-time data for faster decision making
Link your data easily: Linking your Visio shapes and diagrams to data from internal and external sources, for example, can reveal fresh insights and simplify a mountain of complex data. *
You may access your data and visualizations from anywhere: Using your preferred browser, you may access your linked schematics from practically anywhere.
Database reverse engineering: You may now simply convert an existing database into a bespoke database model using DBRE, or Database Reverse Engineering.
Charts of organization based on your data: By automatically producing organizational charts from your sources like as Excel or Exchange, you may save time and prevent errors.
* VISIO SUPPORTS MULTIPLE DATA SOURCES, INCLUDING MICROSOFT EXCEL WORKBOOKS, MICROSOFT ACCESS DATABASES, MICROSOFT SHAREPOINT FOUNDATION LISTS, MICROSOFT SQL SERVER DATABASES, MICROSOFT EXCHANGE SERVER DIRECTORIES, AZURE ACTIVE DIRECTORY INFORMATION, AND OTHER OLEDB OR ODBC DATA SOURCES.
In comparison to Microsoft Visio 2016, what's new in Microsoft Visio 2019?
Start your charts faster – Use the new Organigram launch schedules and brainstorm templates, among other things, to get started even faster.
No plug-ins are required to accurately model your database as a Visio diagram using the Brainstorming Starter diagram.
Create a wireframe diagram for your website quickly and easily – A wireframe is a graphic representation of a user interface. You can bring all of your ideas to life with Microsoft Visio's wireframe module. These website themes are ideal for constructing the ideal website.
Q & A
There are no questions yet
General Inquiries
There are no inquiries yet.