Description
Reviews (0)
Q & A
Store Policies
Inquiries
Description
Product Description
McAfee Privacy & Identity Guard is an advanced and all-inclusive cybersecurity and identity protection service offered by McAfee, a trusted industry leader in computer security software. With its comprehensive suite of features, this service is designed to provide individuals with the utmost protection against the ever-evolving threats to their personal information, privacy, and digital identity. It offers cutting-edge solutions and tools to ensure that your digital life is secure and protected in a world where connectivity and data sharing are ubiquitous. With McAfee Privacy & Identity Guard, you can rest assured that your online presence is safeguarded against all potential threats.
Here are some key features and information
Identity Theft Protection
McAfee Privacy & Identity Guard offers continuous monitoring of personal information such as Social Security numbers, email addresses, and credit card numbers to detect suspicious activity and provide alerts.
Dark Web Monitoring
The service scans the dark web, which is a hidden part of the internet often used for illegal activities. If your personal information appears on the dark web, you will be notified, allowing you to take steps to secure your identity.
Social Media Privacy
It simplifies managing social media privacy settings, making it easier to control information and reduce oversharing risks.
Data Breach Monitoring
McAfee Privacy & Identity Guard monitors for data breaches and alerts you if any of your accounts are compromised. This provides an opportunity to take necessary security measures, such as changing passwords.
Web Browsing Security
This service may protect you from online threats by using browser extensions or plugins to detect potentially malicious websites and phishing attempts while you browse the internet.
Virus and Malware Protection
McAfee offers identity protection along with antivirus and anti-malware features to safeguard your device from online threats.
Credit Monitoring
Some packages may offer credit monitoring, which can help you keep an eye on your credit reports and scores for any suspicious activity that could indicate identity theft.
Identity Recovery
In case your identity is stolen, McAfee offers assistance in the recovery process to help you restore your identity and credit.
System Requirements for Mcafee Privacy & Identity Guard
Operating Systems:
Windows: Supported Windows operating systems, such as Windows 7, 8, 8.1, and 10.
macOS: Supported versions of macOS, such as macOS 10.12 (Sierra) and later.
Hardware Requirements:
Processor: An x86-compatible processor with at least 1 GHz speed or higher.
RAM: Typically, a minimum of 1 GB of RAM is required, but higher amounts of RAM may improve the overall performance of the software.
Hard Disk Space: You will need free disk space to install the software and its updates. The exact space required can vary depending on the specific product version.
Graphics: A standard graphics card is sufficient for most installations.
Internet Connection:
A fast internet connection is necessary for real-time protection, updates, and threat information.
Web Browsers:
For secure web browsing, you need compatible browsers like Chrome, Firefox, Edge, or Safari. McAfee offers browser plugins that check website security in real-time.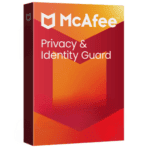 Mcafee Privacy & Identity Guard
Your review
* Review is required
Email
* Email is required
Add photos or video to your review
Q & A
There are no questions yet
General Inquiries
There are no inquiries yet.